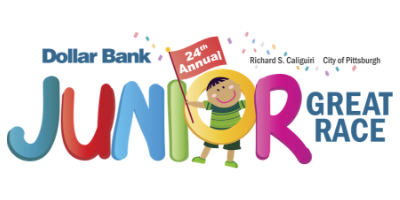 SATURDAY, SEPT. 28 — 11:00 a.m. Point State Park, Downtown Pittsburgh
REGISTRATION DETAILS
Online registration is CLOSED.
You can register for the Dollar Bank Junior Great Race at the Great Race Expo on Friday, September 27 from 11 a.m. - 8 p.m. or in Point State Park on race morning from 9:30 a.m. - 10:45 a.m.
Pricing
$10/child in advance; $12/child day of event

Junior Great Racers — 12 years old and younger — will enjoy fun and fitness at the 24th annual Dollar Bank Junior Great Race. Parents can join their children for the Family Fun Run or cheer on little ones in the Tot Trot and Diaper Dash.​
One-Mile Family Fun Run
This event is designed for children aged five through 12 who are able to complete the one-mile distance on their own. Parents or guardians are encouraged to run alongside their children and do not need to register to do so. This year's run will feature a brand new course! Click here to view the course map.
Tot Trot
This event is for tykes ages four and under who are capable of running or walking the distance. Watch the adorable trot of kids running down a 50-yard walled chute to their own finish line as an announcer officiates the race.

Diaper Dash
Can't quite walk yet? Not a problem. The Diaper Dash allows for the youngest contestants to dash across protective mats. So if your child is starting to walk but isn't too solid on his/her feet, this is a safe bet.
RACE DAY DETAILS
All registered children will receive a commemorative medal and Dollar Bank Junior Great Race t-shirt in addition to a goodie bag, hot dog courtesy of Café at the Point and a scrumptious Smiley Cookie from Eat'n Park.
Activities
Join us for pre and post-race activities in Point State Park beginning at 9:30 a.m.
Mascots — including the Pittsburgh Pierogies, Eat'n Park Smiley Cookie, Riverhounds AMO, Nittany Lion, McGruff the Crime Dog, Barkley and Pussy Willow and Freddy the Flame!
Face painters
Crafts
Keepsake Family Photo opportunity courtesy of Dollar Bank
Raffle prizes
Refreshments
Packet Pick Up
Parents will be able to register additional children and pick up their Dollar Bank Junior Great Race bibs and shirts on Friday only from 11 a.m. – 8 p.m. at the Great Race Expo presented by Highmark Blue Cross Blue Shield. The Great Race Expo will take place in Hall E of the David L. Lawrence Convention Center. If you choose to not pick up your children's race packets at the Expo, they will be available in Point State Park on Saturday morning from 9:30 a.m. – 10:45 a.m.