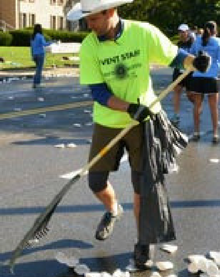 Compostable cups at water stops and waste stations located throughout Point State Park are just a few examples of how the Great Race's ongoing commitment to "greening" the event focuses on all aspects of "Reduce, Reuse and Recycle" throughout annual planning and implementation.
Race organizers work with experts from the Pennsylvania Resources Council and City of Pittsburgh Recycling Division to pursue innovative waste reduction and management practices with an ultimate goal of producing zero waste. This successful partnership — honored with a number of state and regional awards since its launch in 2008 — results in diverting tons of material from landfills each year to become valuable compost and recycled products.
Thanks to everyone — along the course and at the finish line – who supports the Great Race's "green" effort!
THE GREAT RACE RECOGNIZED AS ENVIRONMENTAL LEADER WITH PRC "ZERO WASTE" AWARD
On Feb. 21, 2019, The Pennsylvania Resources Council (PRC) presented "Zero Waste" awards to 20 environmental leaders – including the Richard S. Caliguiri City of Pittsburgh Great Race – in recognition of their commitment to minimizing the amount of solid waste sent to area landfills.
"PRC's Zero Waste Pennsylvania program provides special events, commercial businesses and institutions with vital waste reduction assistance," said PRC Western Regional Director Justin Stockdale. "We're pleased to recognize the accomplishments of those committed to preserving the environment, and we applaud the efforts of this year's class of honorees for their outstanding leadership, innovation and dedication."
In 2018, the Great Race diverted 95% of its waste from landfills.