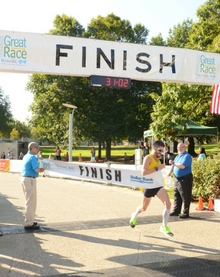 ChronoTrack Systems B-Tag Instructions
Your timing device for this event is the ChronoTrack B-Tag; a single use bib tag. In order to receive an accurate time, please confirm your bib is:
Clearly visible in the front of the torso
Unaltered and unmodified (do not fold or wrinkle)
Pinned in all four corners
Not covered (jackets, runner belts, water bottles, etc.)
The Great Race continues to introduce the latest in race technology – and race results are as close as your smartphone.
By incorporating QR code technology with your race bib, your finish time is now just a scan away. After completing the race, simply use your smartphone* to scan your bib – and you will instantly be linked to your individual race results.
So be sure to load a QR code scanner onto your smartphone or tablet before the race to get your finish times instantly.
* You must have a QR tag reader enabled on your smartphone to take advantage of this function.