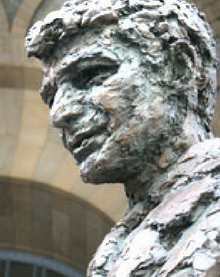 In 1977 Mayor Richard S. Caliguiri established the Great Race as a community "fun run." Eleven years later, Mayor Caliguiri died of amyloidosis, a rare protein disorder in which one or more organ systems in the body accumulate deposits of abnormal proteins known as amyloid.
Each year the Great Race donates $1 from every Great Race and Dollar Bank Junior Great Race registration to the Richard S. Caliguiri Amyloidosis Fund, a fund held by the
Pittsburgh Foundation
that is dedicated to supporting medical research. Again in 2023, $5 from every One GREAT Challenge registration will be donated.
To make a donation to the Richard S. Caliguiri Amyloidosis Fund, please visit
pittsburghfoundation.org
and click on "Give a Donation" in the menu on the right.
For more information on amyloidosis, please visit the Amyloidosis Foundation at
www.amyloidosis.org
or call 1-877-AMYLOID (269-5643). The Amyloidosis Foundation is a non-profit organization that is the result of the merge in 2007 of the Amyloidosis Research Foundation and the Amyloidosis Support Network. The Amyloidosis Foundation's mission is to increase education and awareness of amyloidosis within the community leading to earlier diagnosis and improved treatment.
The Amyloidosis Research Foundation was founded by Don Brockman and Mary O'Donnell in 2003 with the purpose of supporting medical and scientific research for amyloidosis.