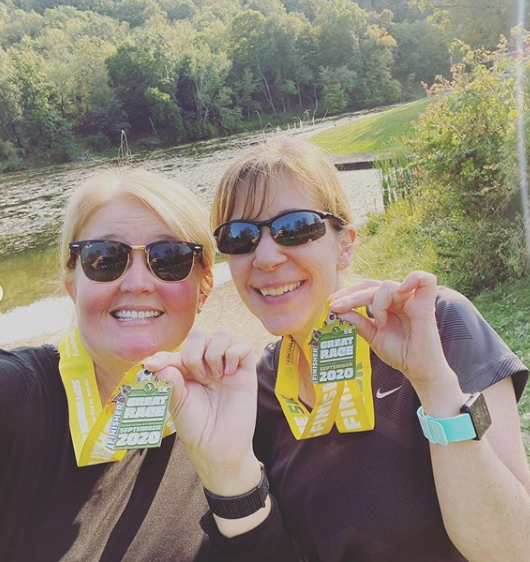 PITTSBURGH, PA (October 1, 2020) – The Richard S. Caliguiri City of Pittsburgh Great Race tradition lives on through the runners who participated virtually in the month-long event. From neighborhood children to the Perfect Great Racers (the 21 men who have participated each and every year since the race's inception), groups of runners of all ages got together to accomplish this year's event.
The Dollar Bank Junior Great Race celebrated its 25th year with more than 300 kids participating virtually. From the Diaper Dash and Tot Trot to the One Mile Fun Run, these children stayed active during the month of September.
Highlights of the month-long event include 12 children from a local neighborhood who chose to celebrate their achievement by gathering with their families in Frick Park and participated in this year's event together. Family members brought signs, cowbells, and even a finisher's tape for each runner to cross through.
"The running community amazes us each year with their achievements," said Brian Katze, Race Director. "Not only did these children commit to run the event, but they also recreated the race day feeling that we all are missing this year."
Among the virtual participants were also the Perfect Great Racers who ran their 43rd consecutive Great Race virtually.
"The spirit of Great Race weekend is truly a part of these men," said Katze. "To see some of them get together to run the event and some of them run it at home, it helped this year feel just as special as every other year."
New this year, the Great Race introduced One GREAT Challenge, encouraging runners to participate in both the 5K and 10K anytime throughout the month.
This motivated runners to push their limits but also aided in the fundraising this event does every year for the Richard S. Caliguiri Amyloidosis Fund, a fund held by the Pittsburgh Foundation that is dedicated to supporting medical research. Five dollars from every Great Race Challenge registration and one dollar from all other event registrations was donated.
# # #
About the Richard S. Caliguiri City of Pittsburgh Great Race
Each year on the last Sunday of September, the starting gun sounds for a world-class road race that has become a true Pittsburgh tradition for the past 40 years. The Great Race – established as a 10K race by the late Mayor Richard S. Caliguiri – has attracted nearly a half million participants since 1977. Over the years, this popular fall fitness classic has grown to include a 5K run/walk, running clinic, two-day expo and children's race. For more information about the Richard S. Caliguiri City of Pittsburgh Great Race, visit www.RunGreatRace.com
FACEBOOK: GreatRacePGH TWITTER: @GreatRacePGH INSTAGRAM: GreatRacePGH
About P3R
P3R is the engine behind Pittsburgh's greatest races. We strive to inspire any and all to run with us. Best known for organizing the acclaimed annual DICK'S Sporting Goods Pittsburgh Marathon, P3R runs a variety of other high-quality races, events, and health and fitness programs throughout the Pittsburgh region. While many of our races attract some of the nation's highest-profile professional athletes, we offer activities for all ages and ability levels. Anyone and everyone is invited to #RUNwithP3R! Read more at: P3R.org
FACEBOOK: RUNwithP3R TWITTER: @RUNwithP3R INSTAGRAM: RUNwithP3R