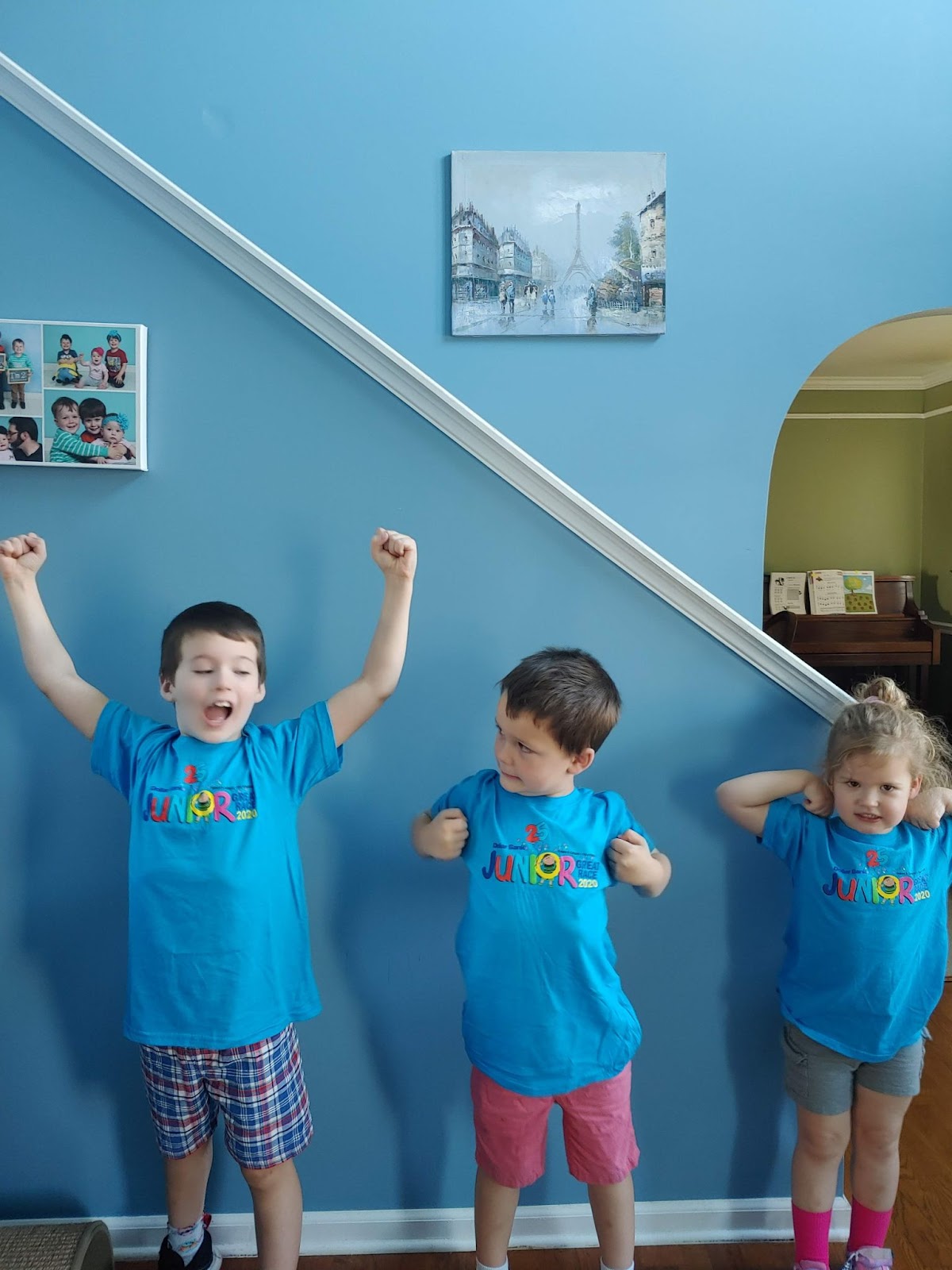 For the past six years, Kelly Allan's family have toed the start line of the Dollar Bank Junior Great Race. Her four kids - Desmond (10), Alexander (8), Lily (7) and Theodore (1) - are excited to once again participate in the event on Sept. 23.
"We love the Junior Great Race," Allan said. "The kids look forward to it each year. We call it the 'mal-e-on', because that was how our kids said 'mile run' when we first started participating. Our oldest was obsessed with being 'fast' and wanted to run, so we looked for a family activity. He ran the mile shortly after turning four with just a little prompting along the way from dad."
After their first race, the Allan family was hooked and have made it a family tradition to participate each year. When the race was changed to a virtual event in 2020, they decided to run their race at a local park to keep their running streak.
"We want our kids to be healthy and engaged in their community. My dad loved to run, so that gives me fond family memories. My younger brother also participates in marathons and usually joins us for the Junior Great Race," Allan said. "A lot of our activities are 'by the fly' - going hiking, camping, jumping at the trampoline park, evenings at the playground, etc - but the Junior Great Race has become an annual staple for our family."
Each year the Allan family focuses on the fun of the event and doesn't worry too much about training or how fast they will run on race day.
"We let the kids drive this. If they are nervous about finishing, or concerned with their time, we will train some during the summer," Allan said. "We want the activity to be fun and not a chore; it's definitely something we do because they're interested and excited about participating. And let's be honest, Mom is the only one who needs training!"
The event has been perfect for Allan's growing family. There's always a way for all her children to participate even if they aren't ready for the mile. This year Theodore, the newest member of the family, will participate in the Diaper Dash. And someday as the kids get older, the Allan family may even try the Richard S. Caliguiri City of Pittsburgh Great Race 5K or 10K.
"We really love the flexibility and family-fun atmosphere at the Point during the Junior Great Race. My middle son likes to run the course multiple times and is always accommodated; whereas my daughter was too nervous to run the mile last year and was allowed to do the Tot Trot as a six-year-old. The atmosphere is so happy and encouraging the whole morning, and this is one of the few activities that all of our children leave with smiles on their faces (albeit tired)."