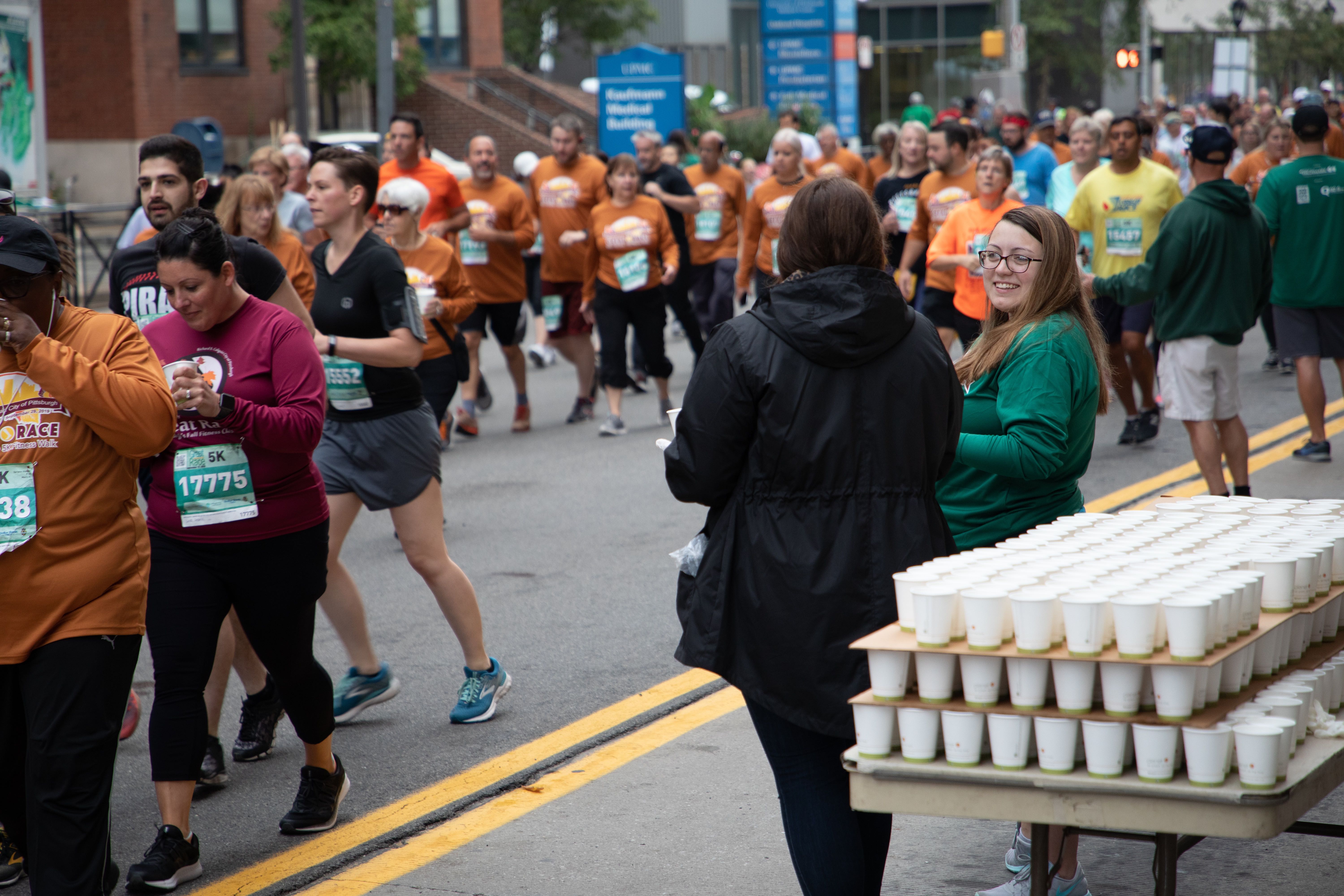 P3R and the City of Pittsburgh announced that this year's 2019 Richard S. Caliguiri City of Pittsburgh Great Race presented by Highmark Blue Cross Blue Shield maintained last year's record-breaking diversion rate, 96% of the event's waste diverted from landfills. Combined, the Great Race and 2019 Dollar Bank Junior Great Race reached a total diversion rate of 92%. This is the fifth year in a row the events have successfully diverted 90% or more of its waste from landfills.
"One of our goals is to host an eco-friendly race each and every year," said Race Director Brian Katze. "We are conscious of our impact on the community, especially being one of the largest races in Pennsylvania, and we take green initiatives very seriously in our operational planning."
Race organizers focus on all aspects of "Reduce, Reuse, Recycle" by having compostable cups at water stops, food recovery sent to local food banks, online "virtual race bag" offers and waste stations located throughout Point State Park to ensure this event is green.
Since 2008, race organizers have worked with the Pennsylvania Resources Council (PRC) to create a comprehensive Zero Waste Program for the event. Items collected from the start line, course and finish line are sorted and reused, recovered, composted, or recycled whenever possible. The partnership with PRC enabled race organizers to divert approximately 3,155 pounds of recoverable material that would have been sent to the landfill this year.
Food leftover from the race, which included 45 cases of bottled water, 25 cases of bananas, 44 boxes of cookies and 14 boxes of bagels, were all donated to 412 Food Rescue to ensure that nothing went to waste at this year's event. Additionally, all discarded warm-up clothing at both start lines were gathered by City Public Works crews and donated to local Salvation Army locations, further ensuring that all items from the race are reused.
''PRC is proud to work with such committed partners that implement sustainable event solutions,'' said Emily Potoczny, PRC Zero Waste Events Manager. "PRC is excited to offer the Great Race platinum level Zero Waste recognition at its 5th Annual Zero Waste Awards Ceremony in 2020.''
The 2019 Richard S. Caliguiri City of Pittsburgh Great Race and Dollar Bank Junior Great Race, which took place on Sept. 28-29, attracted more than 11,500 runners from more than 30 states and two countries. For more information about the events, visit: www.RunGreatRace.com.
# # #
About the Richard S. Caliguiri City of Pittsburgh Great Race
Each year on the last Sunday of September, the starting gun sounds for a world-class road race that has become a true Pittsburgh tradition for the past 40 years. The Great Race – established as a 10K race by the late Mayor Richard S. Caliguiri – has attracted more than a quarter million participants since 1977. Over the years, this popular fall fitness classic has grown to include a 5K run/walk, running clinic, two-day expo and children's race, with more than 16,000 individuals taking part in these various activities annually. For more information about the Richard S. Caliguiri City of Pittsburgh Great Race, visit www.RunGreatRace.com
FACEBOOK: GreatRacePGH TWITTER: @GreatRacePGH INSTAGRAM: GreatRacePGH
About P3R
P3R is the engine behind Pittsburgh's greatest races. We strive to inspire any and all to run with us. Best known for organizing the acclaimed annual DICK'S Sporting Goods Pittsburgh Marathon, P3R runs a variety of other high-quality races, events, and health and fitness programs throughout the Pittsburgh region. While many of our races attract some of the nation's highest-profile professional athletes, we offer activities for all ages and ability levels. Anyone and everyone is invited to #RUNwithP3R! Read more at: P3R.org
FACEBOOK: RUNwithP3R INSTAGRAM: RUNwithP3R TWITTER: @RUNwithP3R