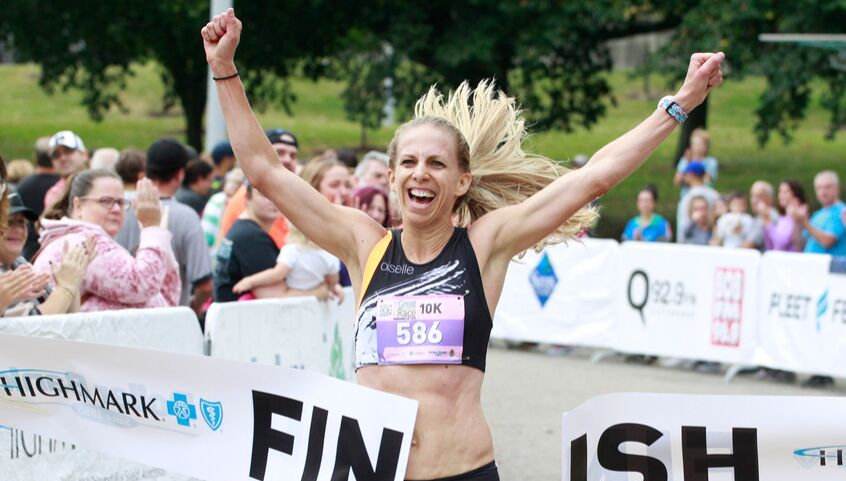 Married couple Lisa and Clay Burnett from Chagrin Falls, OH win 5K; more than 11,500 runners from 30 states plus Canada and the United Kingdom participated in the weekend of events
PITTSBURGH (September 29, 2019) – At the 42nd running of the Richard S. Caliguiri City of Pittsburgh Great Race, Alex Archer, 24, from Sewickley and Jennifer Bigham, 38, from Pittsburgh were the 10K champions in 30:49 and 34:02, respectively. In the 5K race, Clay Burnett, 37, and Lisa Burnett, 36, both from Chagrin Falls, OH, took the titles in 14:42 and 17:08, respectively.
Bigham, who lives in Squirrel Hill, became the first woman to win the race three times. She previously won in 2016 and 2017. Nicole Hilton, 26, from McDonald, Pa. finished second in 35:47, and Allison Goldstein, 33, from Jersey City, NJ finished third in 36:02.
"I didn't want to go out too hard and was trying to stay with the lead ladies during the first mile," Bigham said. "Then I started feeling really good, so I picked it up a little and tried to press the whole time. I wasn't sure where I was in relation to the other runners. I just tried to keep pushing at each mile and then I came out with the win, which is super exciting."
Archer, who finished third in the men's race last year, pushed the competition and won this year's race in 30:49. Max Petrosky of Bradford Woods, Pa. finished behind him in 31:07, and Travis Myers-Arrigoni of Pittsburgh finished third in 31:31.
In the handcycle division of the 10K, Kaden Herchenroether, 14, of Allison Park, finished first with a time of 26:55, marking her second consecutive win. Joey Zins and Amy Crain won the 10K Masters Division, with times of 33:08 and 37:11, respectively.
Married couple Clay and Lisa Burnett each broke the finish tape for the third time in today's 5K race, becoming the first man and woman to win the 5K race three times. Clay previously won the 5K race in 2015 and 2017. Lisa previously won the 5K race in 2015 and 2018 and the 10K race in 2011.
"We have both run in the Great Race every year since 2011, and this is the third time winning for both of us," said Lisa Burnett. "Last year, I finished first, and my husband, Clay Burnett, finished second, so it was great to finish first together this year."
"Last year's finish was definitely my motivation to win today," said Clay Burnett. "Lisa liked to keep my second place trophy in my parking spot just to remind me, so it'll be great to replace it with this year's first place. We really do love running this race together. Everything from the course, the ceremony and all of the crowds cheering people on make it so special."
Today's races concluded Pittsburgh's annual One Great Weekend, which included the Dollar Bank Junior Great Race on Saturday, Sept. 28. More than 850 children and their families celebrated fun and fitness at the One-Mile Family Fun Run, the Tot Trot and the Diaper Dash, making it the largest
Junior Great Race in the event's 24-year history
. Additionally, all 21 men known as the "Perfect Great Racers" crossed the finish line at today's 10K, marking the 42nd time they have all completed the race.
Each year the Great Race donates $1 from every Great Race and Dollar Bank Junior Great Race registration to the Richard S. Caliguiri Amyloidosis Fund, a fund held by the Pittsburgh Foundation that is dedicated to supporting medical research. Amyloidosis is a rare protein disorder in which one or more organ systems in the body accumulate deposits of abnormal proteins known as amyloid.
Click here
for photos of the winners crossing the finish line and other photos from the 42nd annual Richard S. Caliguiri City of Pittsburgh Great Race presented by Highmark Blue Cross Blue Shield. For more information, visit
www.RunGreatRace.com
.
# # #
About the Richard S. Caliguiri City of Pittsburgh Great Race
Each year on the last Sunday of September, the starting gun sounds for a world-class road race that has become a true Pittsburgh tradition for the past 40 years. The Great Race – established as a 10K race by the late Mayor Richard S. Caliguiri – has attracted nearly a half million participants since 1977. Over the years, this popular fall fitness classic has grown to include a 5K run/walk, running clinic, two-day expo and children's race. For more information about the Richard S. Caliguiri City of Pittsburgh Great Race, visit
www.RunGreatRace.com
FACEBOOK:
GreatRacePGH
TWITTER:
@GreatRacePGH
INSTAGRAM:
GreatRacePGH
About P3R
P3R is the engine behind Pittsburgh's greatest races. We strive to inspire any and all to run with us. Best known for organizing the acclaimed annual DICK'S Sporting Goods Pittsburgh Marathon, P3R runs a variety of other high-quality races, events, and health and fitness programs throughout the Pittsburgh region. While many of our races attract some of the nation's highest-profile professional athletes, we offer activities for all ages and ability levels. Anyone and everyone is invited to #RUNwithP3R! Read more at: P3R.org
FACEBOOK:
RUNwithP3R
INSTAGRAM:
RUNwithP3R
TWITTER:
@RUNwithP3R