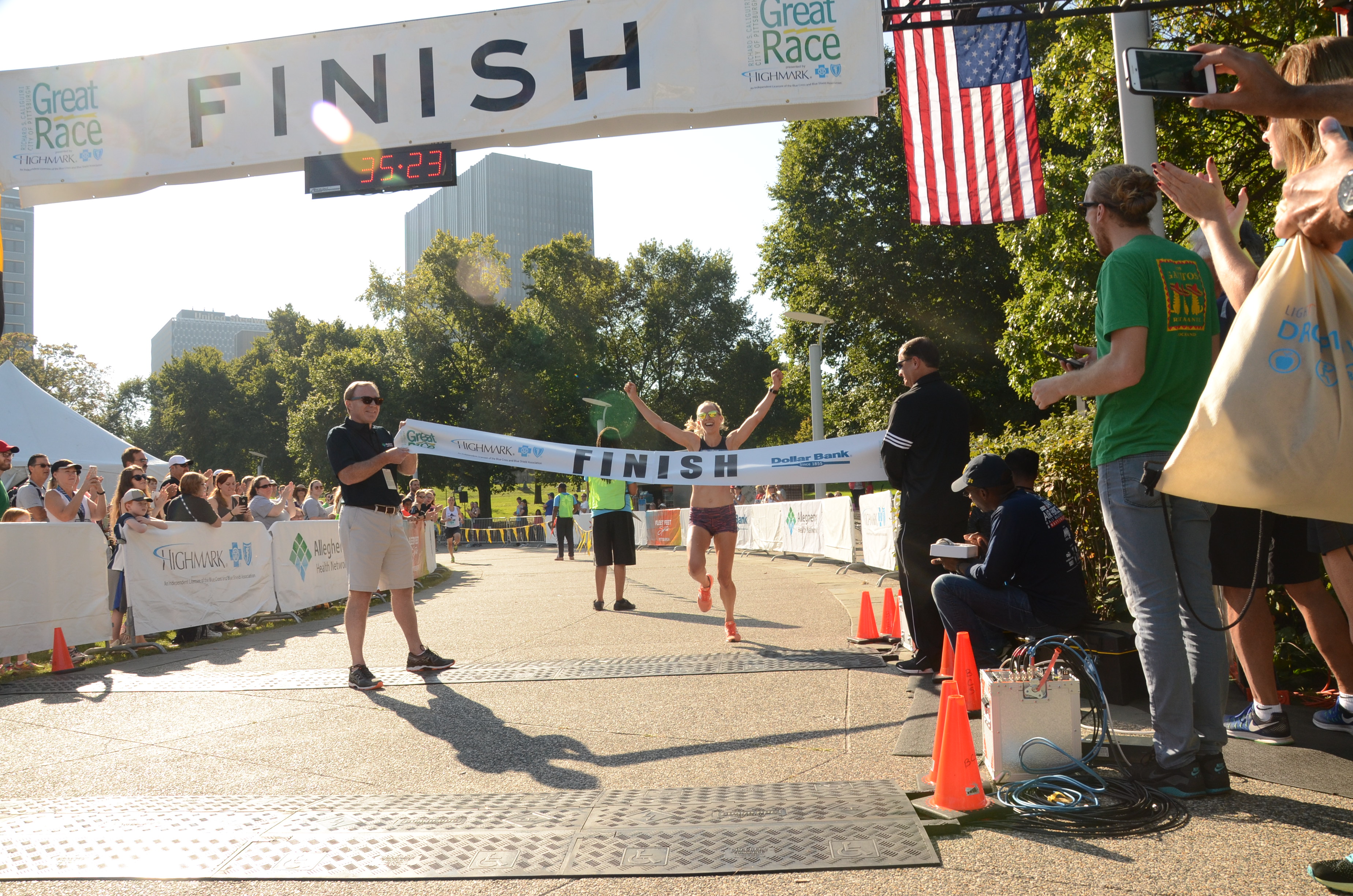 Local Runners Jennifer Bigham, Jim Spisak Eye Third Titles at 2018 Richard S. Caliguiri City of Pittsburgh Great Race

More than 12,000 runners expected for 41st annual event on Sunday, Sept. 30

PITTSBURGH (September 24, 2018) – Defending Richard S. Caliguiri City of Pittsburgh Great Race champion Jennifer Bigham and two-time race champion Jim Spisak are ready to capture another crown at the 41st annual event on Sunday, Sept. 30. Each will be aiming for his or her third win in the 10K race. This year's event will feature more than 12,000 runners from 34 states and 5 countries.
Bigham, of Squirrel Hill, won back-to-back titles after finishing last year's humid race in 35 minutes, 23 seconds. If she repeats, Bigham, 37, will become the first woman to win the race three times.
"I love how much the people in Pittsburgh love this race," Bigham said. "Everyone knows about it and everyone is excited about it, whether or not they've toed the line themselves. I hear every cheer out on the course and it helps pull me along to my best race every year."
Spisak, 27, of Bloomfield, returns to the race after winning back-to-back titles in 2013 and 2014. A graduate of Duquesne University, Spisak is the cross country assistant coach at Point Park University. Earlier this year, he was the top American finisher at the DICK'S Sporting Goods Pittsburgh Marathon with a time of 2:16:48, which qualified him for the 2020 U.S. Marathon Olympic Trials.
"My training has been going pretty well," Spisak said. "Over the last month or so I've been able to get in some solid mileage and a few good workouts as I begin to prep for some bigger races later in the fall. I enjoy how much of the running community in Pittsburgh participates in this race. It's awesome to be on the starting line with so many friends and acquaintances."
The Great Race 10K — Pennsylvania's largest 10K and one of the largest 10Ks in the country — follows a predominantly downhill course from Frick Park in Squirrel Hill to Point State Park in Downtown Pittsburgh. The weekend of events also includes a 5K and the Junior Great Race, which offers a family fun run, tot trot and diaper dash.
About the Richard S. Caliguiri City of Pittsburgh Great Race
Each year on the last Sunday of September, the starting gun sounds for a world-class road race that has become a true Pittsburgh tradition for the past 40 years. The Great Race – established as a 10K race by the late Mayor Richard S. Caliguiri – has attracted more than a quarter million participants since 1977. Over the years, this popular fall fitness classic has grown to include a 5K run/walk, running clinic, two-day expo and children's race, with more than 16,000 individuals taking part in these various activities annually. For more information about the Richard S. Caliguiri City of Pittsburgh Great Race, visit
www.RunGreatRace.com
About the Pittsburgh Three Rivers Marathon, Inc. (P3R)
P3R is a nonprofit organization that is passionate about promoting the love of running and enhancing community access to health & fitness education and activities. Best known for organizing the acclaimed annual DICK'S Sporting Goods Pittsburgh Marathon, we also manage a variety of other high-quality races, events and health & fitness programs throughout the Pittsburgh region. While many of our races attract some of the nation's highest-profile professional athletes, we offer activities for all ages and ability levels. The only criterion for participation is a desire to be happy, healthy and active! Read more at:
P3R.org