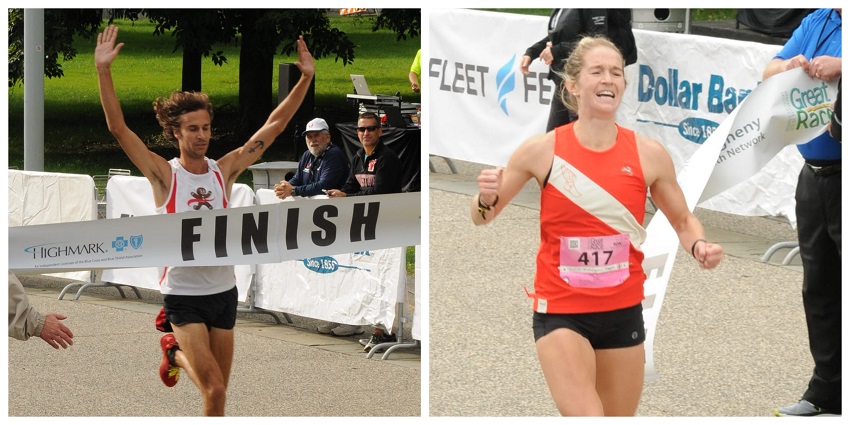 Both race champions set new 10K personal records on the predominantly downhill course

At the 41st running of the Richard S. Caliguiri City of Pittsburgh Great Race, two-time winner Jim Spisak, 27, from Pittsburgh and Samantha Bower, 28, from Greensburg, PA were the 10K champions in 28:16 and 35:31, respectively. In the 5K race, Kenny Goodfellow, 29, from Oakmont, PA, and Lisa Burnett, 35, of Chagrin Falls, OH, took the titles in 15:17 and 17:20, respectively.
Spisak, who also won the Great Race in 2013 and 2014, took the lead early on and continued to widen the gap as he neared the finish line, beating second- and third-place finishers Max Petrosky and Alex Archer by more than three minutes. The three-time race champion was living and training with NE Distance in Providence, RI, for the past three years but recently returned to Pittsburgh to serve as the cross county coach at Point Park University.
"I wasn't aiming for a certain time today, but the weather was about as good as you could hope for. And it's a good course to run fast on because it's mostly downhill," said Spisak. "I came out faster during that first mile than I thought, and I ended up running so well that I set a new 10K personal record." But the race wasn't just special because of his great performance.
Many of Spisak's family members also participated in today's Great Race in honor of his uncle who is living with
amyloidosis
, the same disease from which former Mayor Richard S. Caliguiri suffered. The Great Race donates $1 from each registration to the Richard S. Caliguiri Amyloidosis Fund, which is held by the Pittsburgh Foundation dedicated to supporting medical research.
In the women's 10K race, Bower easily defeated runner-up Maura Carroll from Arlington, VA, who finished in 35:53. Kate Kokal from Pittsburgh, who was the
2018 FlyBy 5K
race champion just last weekend, finished third in 36:06. Similar to Spisak, Bower grew up in the Pittsburgh area and recently moved back after living in New York City for several years.
"When I decided to move back to Pittsburgh, the first thing I did was sign up for the Great Race — before I found a place to live or got settled. It was my first 10K at age 7 or 8, so I was excited to get back to this Pittsburgh tradition," said Bower. "I remembered the course from when I last ran the Great Race in 2010, and today I was feeling good. I followed defending champion Jen Bigham for the first three miles, and after making a move to pass her, I was excited to cross the finish line first and set a new PR."
In the hand cycle division of the 10K, 13-year-old Kaden Herchenroether of Allison Park, PA, finished first with a time of 32:31.
In the men's 5K race, Goodfellow beat defending champion Clayton Burnett, from Chagrin Falls, OH, by just 11 seconds. Burnett, who also won the 5K in 2015 and finished as the runner-up in 2016, crossed the finish line at 15:28, and Gregory Olenginski from Philadelphia finished in third place in 16:14.
On the women's side, Burnett shaved five seconds off of her 2017 time, crossing the finish line 33 seconds earlier than runner-up Erika Suhy from McKeesport, PA, who finished in 17:53. Susan Barrett of Pittsburgh finished in third with a time of 17:59.
Click here
for photos of the winners crossing the finish line and other photos from the 41st annual Richard S. Caliguiri City of Pittsburgh Great Race presented by Highmark Blue Cross Blue Shield. For more information, visit
www.RunGreatRace.com
.
About the Richard S. Caliguiri City of Pittsburgh Great Race
Each year on the last Sunday of September, the starting gun sounds for a world-class road race that has become a true Pittsburgh tradition for the past 40 years. The Great Race – established as a 10K race by the late Mayor Richard S. Caliguiri – has attracted more than a quarter million participants since 1977. Over the years, this popular fall fitness classic has grown to include a 5K run/walk, running clinic, two-day expo and children's race, with more than 16,000 individuals taking part in these various activities annually. For more information about the Richard S. Caliguiri City of Pittsburgh Great Race, visit
www.RunGreatRace.com
About Pittsburgh Three Rivers Marathon, Inc. (P3R)
P3R is a nonprofit organization that is passionate about promoting a love of running and enhancing community access to health & fitness education and activities. Best known for organizing the acclaimed annual DICK'S Sporting Goods Pittsburgh Marathon, we also manage a variety of other high-quality races, events, and health and fitness programs throughout the Pittsburgh region. While many of our races attract some of the nation's highest-profile professional athletes, we offer activities for all ages and ability levels. The only criterion for participation is a desire to be happy, healthy and active! Read more at: P3R.org