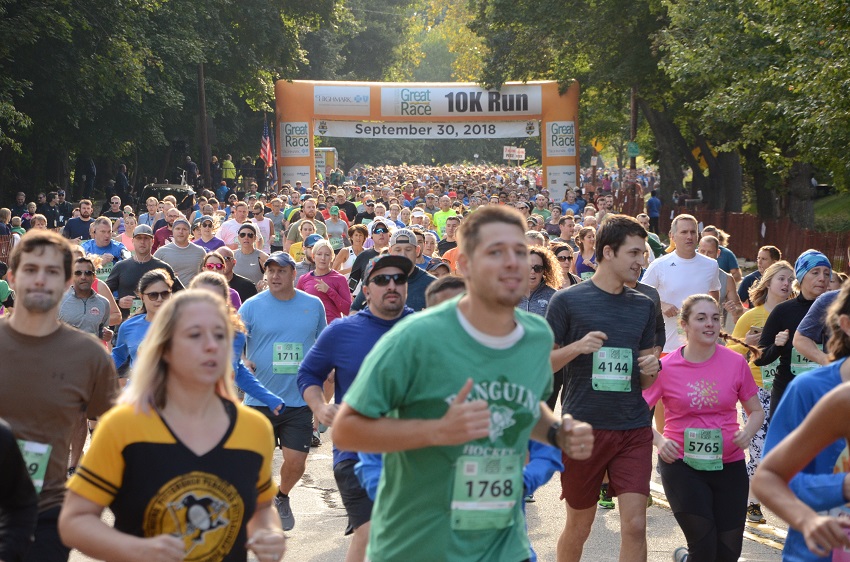 More than 16,000 participants expected for One Great Weekend, scheduled for Sept. 28-29
Are you ready to secure your spot for the second edition of One Great Weekend? If you are among the first to register, you will save big! Mark your calendars now for Jan. 22 when online registration opens for the 42nd annual Richard S. Caliguiri City of Pittsburgh Great Race presented by Highmark Blue Cross Blue Shield and 24th annual Dollar Bank Junior Great Race.
"The Great Race and Junior Great Race are cherished fall traditions for runners of all ages and abilities, so we look forward to hosting One Great Weekend once again in 2019," said Brian Katze, race director. "By hosting the events back-to-back for the second year in a row, we hope many will begin to think of one of Pittsburgh's longest-running races as a 'can't miss' race weekend for the whole family."
One Great Weekend is scheduled for Sept. 28-29, with the Junior Great Race taking place on Saturday and the Great Race on Sunday. More than 16,000 are expected to register for weekend of events, which includes a 10K, 5K, Family Fun Run, Tot Trot and Diaper Dash.
Online registration will open at the guaranteed lowest price of $20 for the Great Race at 9:00 a.m. on Jan. 22, and new this year, exclusive opening day pricing will be offered. Once a limited amount of spots are claimed at $20 for the 10K and 5K, the price will increase by $1 increments as more people sign up. Registration for the Junior Great Race will open and remain at $10 throughout the registration period.
The City of Pittsburgh will once again partner with
P3R
, Pittsburgh's premier race organization best known for managing the DICK'S Sporting Goods Pittsburgh Marathon, to produce the 2019 events. According to P3R CEO Patrice Matamoros, "More than a quarter of a million people have participated in the Great Race since its inception in 1977. We are thrilled to continue to be involved with the largest 10K race in Pennsylvania and one of the largest 10K races in the nation."
Proceeds from the popular fall fitness classic will continue to support amyloidosis research and advocacy. Each year, the Great Race donates $1 from every Great Race and Junior Great Race registration to the
Richard S. Caliguiri Amyloidosis Fund
, a fund held by the
Pittsburgh Foundation
that is dedicated to supporting medical research.
About the Richard S. Caliguiri City of Pittsburgh Great Race
Each year on the last Sunday of September, the starting gun sounds for a world-class road race that has become a true Pittsburgh tradition for the past 40 years. The Great Race – established as a 10K race by the late Mayor Richard S. Caliguiri – has attracted more than a quarter million participants since 1977. Over the years, this popular fall fitness classic has grown to include a 5K run/walk, running clinic, two-day expo and children's race, with more than 16,000 individuals taking part in these various activities annually. For more information about the Richard S. Caliguiri City of Pittsburgh Great Race, visit
www.RunGreatRace.com
.
About Pittsburgh Three Rivers Marathon, Inc. (P3R)
P3R is a nonprofit organization that is passionate about promoting the love of running and enhancing community access to health & fitness education and activities. Best known for organizing the acclaimed annual DICK'S Sporting Goods Pittsburgh Marathon, we also manage a variety of other high-quality races, events and health & fitness programs throughout the Pittsburgh region. While many of our races attract some of the nation's highest-profile professional athletes, we offer activities for all ages and ability levels. The only criterion for participation is a desire to be happy, healthy and active! Read more at
P3R.org
.