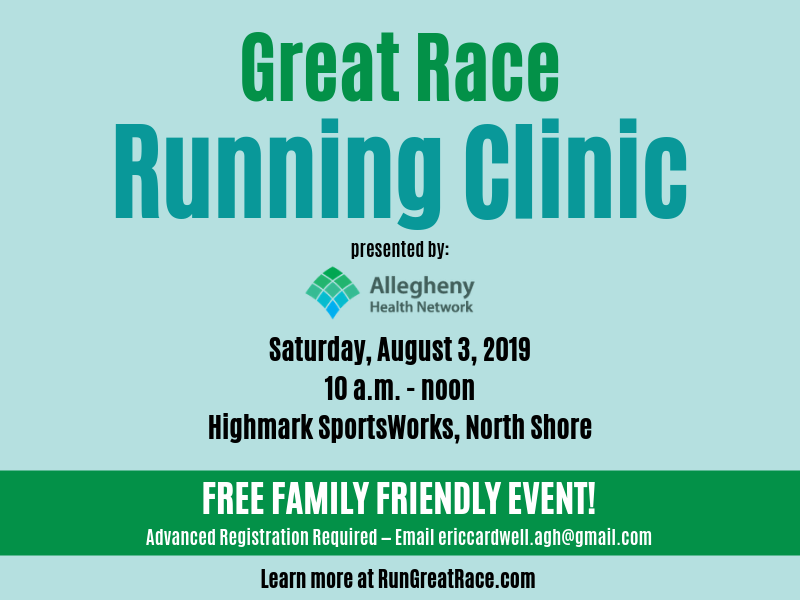 The free event at Highmark SportsWorks® will feature functional movement screens, activation stations to improve sports performance and access to interactive exhibits
Runners can start their training for the Richard S. Caliguiri City of Pittsburgh Great Race off on the right foot at this year's Great Race Running Clinic presented by Allegheny Health Network. Through interactive stations and exhibits, both experienced runners and first-timers will learn how they can boost performance, prevent injury and improve their training runs.
The FREE family-friendly event will be held from 10:00 a.m. to 12:00 p.m. on Saturday, August 3 at Highmark SportsWorks® at Carnegie Science Center. There will be numerous activities for runners of all levels including:
●
A complimentary
Functional Movement Screen
from the certified athletic trainers and physical therapists at Allegheny Health Network. The screening is designed to evaluate the body and help enhance running performance by looking for imbalances in strength, stability and flexibility that may cause an overuse injury in training.
●
Activation Stations
to improve your sports performance. These stations will be staffed by Allegheny Health Network Sports Performance Staff. This activation exercises are meant to act as a good warm-up and cool down routine to assist with increased performance and decreased chance of injury.
●
Access to
SportsWorks' numerous interactive exhibits
that include scaling a 25-foot rock wall, defying gravity at the ropes challenge, becoming a human yo-yo, running an Olympic sprint and more!
●
Product samples and demonstrations from vendors, including Toast Sports Performance and Pain Relief Products, Healthy Ride Pittsburgh, Pittsburgh Pro Bike + Run and Fleet Feet Pittsburgh.
Note:
Admission to the family-friendly event is free but ADVANCE REGISTRATION IS REQUIRED. This offer does not include admission to the Carnegie Science Center. The parking fee is $5 per car. Visit
http://www.rungreatrace.com/RunningClinic
for more information and to register.
For more information or to register for the 2019 Richard S. Caliguiri City of Pittsburgh Great Race and Dollar Bank Junior Great Race, visit:
www.RunGreatRace.com
.
About the Richard S. Caliguiri City of Pittsburgh Great Race
Each year on the last Sunday of September, the starting gun sounds for a world-class road race that has become a true Pittsburgh tradition for the past 40 years. The Great Race – established as a 10K race by the late Mayor Richard S. Caliguiri – has attracted nearly a half million participants since 1977. Over the years, this popular fall fitness classic has grown to include a 5K run/walk, running clinic, two-day expo and children's race. For more information about the Richard S. Caliguiri City of Pittsburgh Great Race, visit
www.RunGreatRace.com
About P3R
P3R is the engine behind Pittsburgh's greatest races. We strive to inspire any and all to run with us. Best known for organizing the acclaimed annual DICK'S Sporting Goods Pittsburgh Marathon, P3R runs a variety of other high-quality races, events, and health and fitness programs throughout the Pittsburgh region. While many of our races attract some of the nation's highest-profile professional athletes, we offer activities for all ages and ability levels. Anyone and everyone is invited to #RUNwithP3R! Read more at:
P3R.org